Office Administration covers a basic knowledge of administrative and client services, communication skills and competency in computer typing, crucial to the successful functioning of any office or business environment. Office Administration will teach a learner essential skills for a prospective office environment for example how to communicate effectively in a professional situation, how to conduct and coordinate business office procedures and apply basic mathematical skills. It will enhance learners typing and internet skills as well as learning how to deal with customers and the reception area.

The content in the Consumer Studies and Hospitality Studies curriculum is instructed with the focus on practical skills more so than on rote learning of theoretical content.

The Performing Arts program at The Gateway School serves to holistically stimulate the learner by means of movement, singing, active listening, instrumental play, creativity and dance incorporating his/her mind, body and soul.

Establishing an awareness of recycling within each learners' daily routine, is our goal.

A number of grade 4 and 5 learners are instructed in Agricultural Studies, as one of four skills subjects.

Woodworking and timber is a skills subject offered to male learners at the Gateway School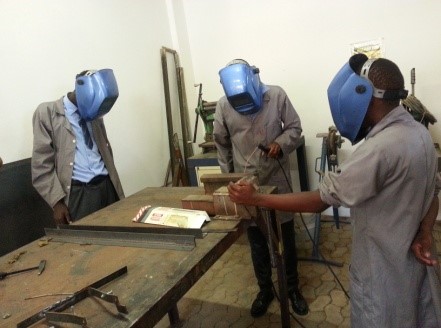 Welding Learners are trained in planning, measuring, cutting, joining and finishing the article that is manufactured from steel. Welding is instructed in the grade 4 and 5 classes.

The subject, Beauty and Nail Technology, was introduced at The Gateway School at the beginning of 2016. Several girls that are 14 years and older receive instruction in this subject to develop self-directed skills and knowledge as assistants to nail technologists, beauticians or make-up artists.

The Art and Crafts learning programme explores knowledge and understanding of a variety of materials, techniques and work processes